Bengal
Silicon Valley

Tech Hub

`
The proposed Bengal Silicon Valley Tech Hub is an Innovative Information Technology hub cutting-edge technology, which is envisioned to attract investment in IT/ITeS/Telecom projects with employment potential. This will be a futuristic hub that will catalyze the IT ecosystem in the state and will act as a beacon for the IT industry.The foundation stone of the project was laid on 13th August 2018 by Hon'ble Chief Minister of West Bengal, Smt Mamata Banerjee.
The hub is planned to be set up on approximately 200 acres of land in a strategic location in New Town's Action Area-II, near Eco-Park, which can be reached within ten minutes from Kolkata International Airport. The New Town-Salt Lake Sector V twin towns together boasts of an ecosystem which is conducive to the growth of IT/ITeS enterprises.

Infrastructures facilities
Infrastructures facilities of Bengal Silicon Valley Tech Hub.
KEY
Features
The proposed Bengal Silicon Valley Tech Hub is expected to be home to MNCs, start-ups, incubators, investors, all working on deep innovation in technology and tech-enabled business applications/models with a global footprint with few specific goals
2,00,000 +

Employment

Generating technology-led employment and boosting the state GDP


Technology
Friendly

City

Branding the state of West Bengal and the city of Kolkata as a tech-savvy and technology friendly city
Tech

Ecosystem

Signaling the broader tech ecosystem globally to actively consider Kolkata as an attractive technology hub in India
---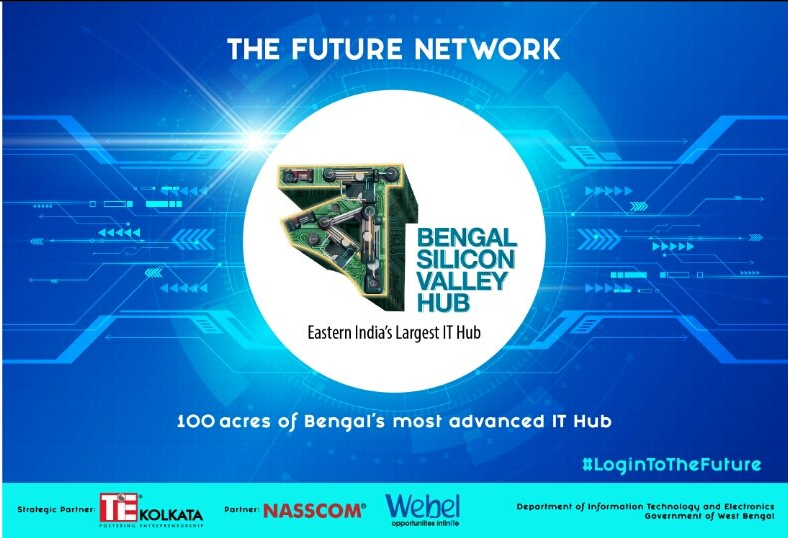 KEY Features
The proposed Bengal Silicon Valley Tech Hub is expected to be home to MNCs, start-ups, incubators, investors, all working on deep innovation in technology and tech-enabled business applications/models with a global footprint with few specific goals
1

Generating technology-led employment and boosting the state GDP

2

Branding the state of West Bengal and the city of Kolkata as a tech-savvy and technology friendly city

3

Signaling the broader tech ecosystem globally to actively consider Kolkata as an attractive technology hub in India